Set Up a Temporary Kitchen During a Renovation
Set up a temporary kitchen and you'll find it much easier to survive a kitchen renovation. Here are tips and tricks for setting up a temporary kitchen in another room in your house.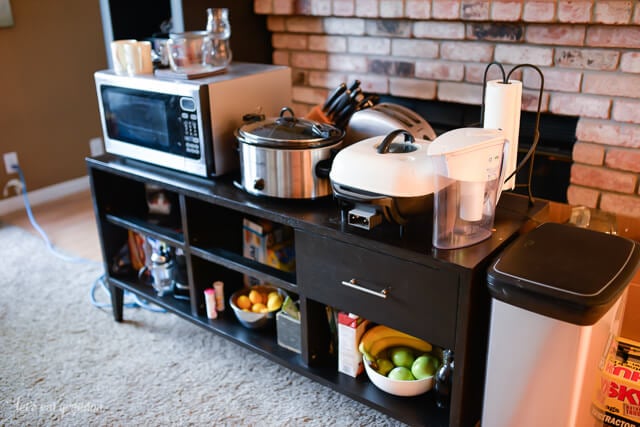 Set-Up
We are doing this kitchen renovation without kids. If you are doing a kitchen redo while raising kids, you'll definitely have more of a challenge with the number of things you need to make food preparation possible for your entire family.
I think it would be more important to have a specific space for your temporary kitchen — a dining room, den, or some other room where you could also set up a table for eating. Our house is very small and our dining room is part of the reno, so our temporary kitchen is literally in front of our fireplace and TV — it's the only spot for it! We eat on our laps on the sofa. This would be a difficulty with children.
Our dining room sideboard is our temporary kitchen. We took out most of the drawers and used them to pack up some of our kitchen things, which we stored in our guest room along with everything else that was non-essential. On the treadmill, of course.
The one drawer left in our sideboard has all of our kitchen utensils, like spatulas, serving spoons, and, of course, the ice cream scoop. The knives and paper towels also sit out on the sideboard for easy access (and a super fun time when your friends with toddlers top by!), with the trash can at the end. The trash can lid ends up serving as a bit of extra counter when needed.
When we're actually doing construction, we cover it with a sheet of plastic to help control the dust (the demo-ed kitchen is about three feet to the right of the below photo). It doesn't do a perfect job, but it helps.
We only kept out two each of plates, bowls, cups, mugs, and silverware — one for each of us. I'm not one to use disposable plates, etc. — it's easy enough for the two of us to wash our dishes after each meal. You might want to try disposable if you have a big family, though — washing a dozen dishes in the bathroom sink is not any fun.
For now we're using the guest bath (guess what's getting renovated next!) for dishes, but we're setting up a utility sink in the garage which will make things a lot easier. The big stuff, like the crock pot, get washed in the tub for now.
We put pantry food and supplies (including our all-important French press) in the sideboard. We're lucky because our dog doesn't get into it. We also have, well, a bed-full of food that we pick through if we need something. It's rare, since we're not cooking or baking all that much.
The fridge is sort of floating out in the dining room and gets moved as necessary. We may end up relocating the fridge to the garage as the renovation progresses — especially when it comes time to do the floors. But even if I have to move it into the master bedroom, I'm not doing this without the fridge!
Cooking
We have several ways to cook in our temporary kitchen. We use the microwave more than anything — it's just easier to heat up food rather than dirty pots and pans which are difficult to wash.
We also have a crock pot, a toaster, and an electric skillet. Oh, and a Nutribullet, for our delicious morning smoothies.
Food
Most of our food is fresh or frozen, so we don't have a lot to keep in our sideboard and on the bed in the guest room. With our fridge currently in the dining room, it's still easily accessible. We also have two month's worth of freezer meals (see tips and tricks for cooking a month's worth of meals in one day) that we've been working through — we use the microwave, crock pot, and skillet to cook them.
And there's the G'Day Deli around the corner that we're keeping in business!
Overall, it's more of an inconvenience for us than a total hardship. We are both thankful that we've decided to do this renovation before we start a family — keeping kids out of the mess and the hassle of feeding a family would be a lot to take on.
But with a little creativity and quite a bit of going with the flow, it's possible to survive without a fully functioning kitchen without going crazy!
SOURCE: https://heyletsmakestuff.com/real-life-renovations-surviving-without-kitchen/